INTRODUCING…. DALEK 2.0!!!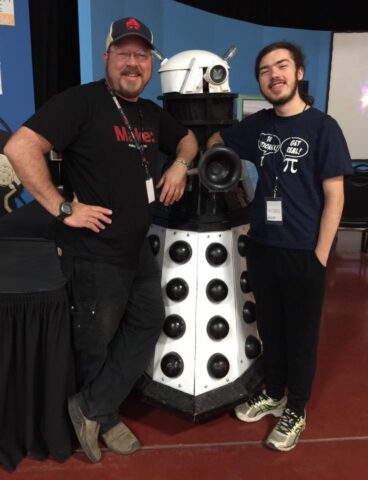 The Fairfax Dalek initially started as a maker project for 6th-7th grader Dr Who fans at White Hill School in Fairfax. The initial version was completely recycled parts, with an old FIRST robot for the base, cardboard for the body with apple cartons from Costco as the 'balls', a wok for the head and spice jars for the ears. It became a favourite with the kids, and each year they improved on it under Andrew's guidance, taking him to MakerFaire whenever possible.
The second version had more durable parts, with an acrylic body, mecanum wheels, and 12v car batteries to power it. It had an arduino with several pre-recorded sounds (such as Exterminate!) that were controlled via the main controller.
And now – we're excited to introduce the new Dalek 2.0 robot – complete with AI and full sentence conversations!
We are very happy that MakerFaire has returned, and to celebrate are completely redoing the dalek as a family project. This time we've followed build plans from Project Dalek, but with a robotic twist. We're using AI (Computer Vision) to track faces via a camera in the stalk and move the stalk appropriately, and a voice changer. Nick did most of the electronics, Andrew and Nick the building, and special thanks to Ralph Gnauck who came out during Curse weekend the week before showtime to help with the pi and battery.
We've reused the mecanum wheels and the hemispheres from Dalek 1.0. Practically everything else is new.